Hands off Twitter, Mr. Trudeau
It's tough to imagine Musk giving a single thought about Canada's Digital Safety Commissioner
Get the latest from Chris Selley straight to your inbox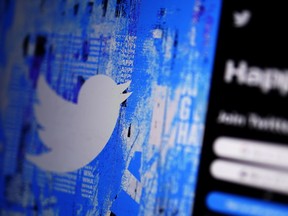 Article content
Elon Musk's tumultuous US$44-billion takeover of Twitter has been astonishing to watch, and no one seems to know where it'll end up — least of all Musk. He fired fully half of the company's 7,500 employees, only to immediately ask some to return, according to media sources. He declared war on parody accounts, which immediately (and inevitably) led to scads of new parody accounts, some of which have even ended up "verified" — a blue check mark beside a user's name that supposedly guarantees authenticity. Those check marks are now for sale, under the banner "Twitter Blue." How many will pay, how they will be rewarded and how non-paying users might be marginalized are all open questions. Musk boasts that Twitter's new content moderation council features "widely diverse viewpoints," which to his critics is simply code for tolerating hate speech.
Article content
Twitter can be fascinatingly, relentlessly awful — a never-ending Mardi Gras parade of our worse angels. But the level of concern about Musk's intentions, even among users who wonder aloud why they keep coming back to "this hellsite" (as Twitter is often and accurately described), shows that many would miss it if it changed beyond recognition. Once you've blocked several thousand trolls and fiddled with your content settings, Twitter can be a wonderful source of creative, funny and diverting content.
Article content
In any event, society will survive whatever happens to Twitter. Other hellsites will come along; perhaps even non-hellsites! One thing Musk's Twitter takeover obviously is not, is a matter for the federal government to deal with.
Article content
And Prime Minister Justin Trudeau and Heritage Minister Pablo Rodriguez should be thanking their lucky stars for that. Because had the Liberals' aborted attempt last year to clamp down on "online harms" succeeded, Musk's plans would very much be their business. They would be ruing the day.
Liberal online streaming bill could pose privacy problems, commissioner testifies

The extremely Canadian media that Ottawa doesn't consider CanCon
The Liberals' original "framework" for legislation against online harms would have forced "online communication services" like Twitter, Facebook and TikTok to remove posts flagged as harmful — or else deem them kosher — within 24 hours, all under the watchful eye of a new Digital Safety Commissioner and an accompanying mega-bureaucracy. The companies would have had to monitor content proactively, not just respond to complaints, and report malfeasance to the police. Regular reports on their efforts would have been due at the commissioner's office.
Article content
It was a crazy idea, doomed to fail, and utterly dismissive of free-speech concerns. (Trudeau's Liberals seem to have bought into the notion that "free speech" is just code for "Nazi," but that's not actually Canadian law.) By the end it seemed then-heritage minister Steven Guilbeault, who defended the project in English Canada as if it were his job to murder it, was the only person who couldn't see it.
Essentially the Canadian government wanted to outsource not just the policing of harmful speech to a bunch of mega-corporations with no mandate or reason to care about Canadian laws or basic constitutional freedoms; in effect, it also wanted to outsource the definition of harmful speech to those companies, inasmuch as the companies would use algorithms to detect and report it. (Perhaps the algorithm could have dialled 911 all by itself. What could go wrong?)
Article content
As critics correctly noted, the system would almost certainly lead to overzealous censorship. No one at TikTok or Instagram wants to see "Digital Safety Commissioner Canada" on their call display on a Monday morning; they would logically set the algorithms to maximum discrimination just to make their lives easier. The 24-hour deadline, too, basically says "err on the side of deletion." Ottawa can't boil an egg in 24 hours; why should TikTok be deputized to judge free speech on that timeline?
That all would have been bad enough: The government would now partially own and have to answer for social media companies' notoriously confusing and arbitrary moderation policies. With Musk's Twitter, however, it might have been much worse. It's tough to imagine Musk giving a single crap about the Digital Safety Commissioner. Chances are, whoever would have taken the commissioner's calls just got fired anyway. And if Twitter refused to play ball, then what? Block it from Canadians' computers? It escapes me how on earth the government could have defended such a manoeuvre in court.
Article content
The Liberals' framework for online harms legislation does get one thing right: "The concept of hate speech should be defined in the same way as it is defined under the … Canadian Human Rights Act," it stipulates, "and hate speech should only be considered as harmful content … when communicated in a context in which it is likely to cause harms identified by the Supreme Court of Canada and in a manner identified by the Court in its hate speech jurisprudence."
And we would ask Facebook, Instagram, TikTok and Twitter to police that, instead of police and human rights tribunals … why? The Trudeau government pledges to take another run at online harms, once it's finished with other parts of its anti-Internet agenda. Pierre Poilievre's Conservatives vow to wrap that agenda in a dirty carpet and throw it off a bridge, and they have the right idea — both politically and philosophically.
Get the latest from Chris Selley straight to your inbox
link