Disclosure, transparency, and accountability: a qualitative survey of public sector pharmaceutical committee conflict of interest policies in the World Health Organization South-East Asia Region | Globalization and Health
We identified 85 publicly available documents across 10 countries. We did not identify any publicly available documents for the Democratic People's Republic of Korea. Figure 1 outlines the screening process. We included 45 documents for analysis which described the purpose and functions of 41 public sector pharmaceutical committees from 10 countries (see Appendix 2).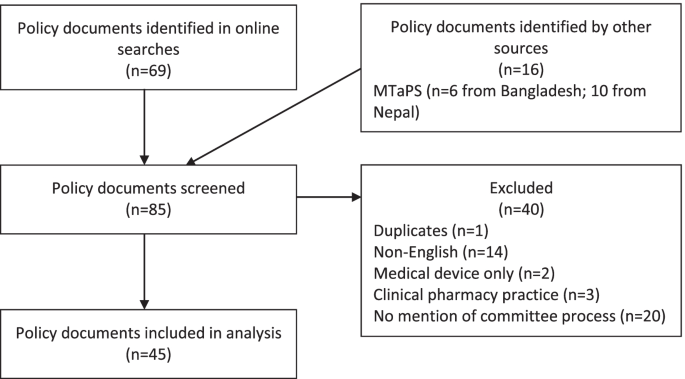 We emailed interview invitations to 55 people from the 11 WHO SEAR countries and interviewed 21 individuals from 8 countries during 15 interviews between January and March 2021. Due to the military coup in Myanmar on February 1st, 2021, we were unable to recruit any key informants from this country. We were unable to contact anyone in the Democratic People's Republic of Korea due to rejection of our emails by the internet server. We were also unable to recruit any informants from Bangladesh, as prospective participants did not respond or declined to participate. Other prospective participants either did not respond or were unable to participate, frequently citing the workload related to the COVID-19 pandemic. Interviews lasted between 30 and 68 min (mean = 45 min). Participants represented a range of disciplines including pharmacy, nursing, health economics, social science, and law and worked in the public sector (including Ministries of Health, national medicines regulatory agencies, civil services), academia and independent research organizations, and the health system.
The 10 sampled countries represented a diverse range of lower- and middle-income countries in terms of size, health system maturity and funding models, and the presence and nature of the domestic pharmaceutical industry [21] (Table 2). Key informants articulated different governance priorities and conflict of interest concerns depending on the features of their country's pharmaceutical industry, market size, and national economic objectives related to the domestic pharmaceutical industry.
For some countries in the early stages of establishing their regulatory and health systems, priority issues including promoting access to essential medicines and addressing medicines shortages, challenges which were exacerbated by the country's reliance on imports and donations of pharmaceuticals. Key informants in these countries explained that issues related to conflicts of interest, while considered important, were secondary to efforts to establish the mission and function of pharmaceutical regulators and to build capacity in terms of human resources and technical expertise.
In other countries, particularly those with significant domestic and export pharmaceutical industries, concerns about conflicts of interest and pharmaceutical industry influence within regulatory processes had prompted national conversations and led to significant policy developments over the past decade. One example was the investigation and report in 2012 by 59th Parliamentary Standing Committee into the activities of the Central Drugs Standard Control Organisation (CDSCO), the agency mandated with drug regulation in India [22]. The Committee noted that the mission of the CDSCO at the time was to "meet the aspirations…demands and requirements of the pharmaceutical industry," (p. 3) and urged the CDSCO to reformulate their primary mission in "unambiguous terms" that prioritised public health. The Committee also identified serious issues related to alleged pharmaceutical industry influence including the "credibility and utility" of opinions from independent experts. This landmark report thus called for major policy development in the area of conflict of interest including instating requirements for mandatory declaration of interests for committee members, creating transparent and written guidelines around the selection of external experts and a mandate to diversify the pool, and emphasizing the provision of evidence in expert opinions [22].
Economic development goals and pressure from international bodies have also prompted policy development around conflicts of interest. For example, Sri Lanka signed onto the United Nations Convention Against Corruption in 2004; the European Commission and International Monetary Fund emphasized Sri Lanka's obligations under this Convention, prompting creation of a National Action Plan to Combat Corruption and Bribery, an amendment to the Constitution [23], and an array of preventative measures and educational outreach, including a handbook on conflict of interest [24].
Across sampled countries, however, key informants emphasized the need for political leadership and capacity building in preventing and addressing conflicts of interest for committee membership. Key informants agreed on the importance of strong pharmaceutical governance to protect reliable access to affordable, safe, and quality-assured medicines and identified the presence of specific legislation, the existence of oversight bodies, an autonomous regulator, and strong civil society involvement in policy development as key facilitators for developing and implementing conflict of interest policy. However, experts also articulated priority concerns related to understaffing, lack of technical expertise, and lack of trust in emergent regulatory systems, which were key contextual challenges for countries in developing and implementing conflict of interest policy.
Policies and practices for addressing conflicts of interest
Table 3 summarizes the evidence for disclosure and management of conflicts of interest among public sector pharmaceutical committees in the WHO SEAR. Because many policies are not publicly available or are not available in English, we asked key informants to report policies or practices that are not documented in the public domain and also included accounts of conflict of interest policy development and implementation in the scholarly and grey literature. Eight policy documents (from Bangladesh, Bhutan, India, Nepal, and Sri Lanka) specifically referenced provisions related to conflict of interest. The eight policy documents included: 3 public procurement rules and regulations [25,26,27]; 2 medicines rules and regulations [28, 29]; 1 medicines regulatory act [30]; 1 national medicines policy [31]; and 1 committee constitution [32].
In addition, many of the other sampled policies discussed committee governance, ethics, integrity, and underlying values more generally. For example, Nepal's Public Procurement Act of 2006 and Public Procurement Regulations of 2007 aimed to make public procurement more "open, transparent, and credible," to "promote competition, clarity, integrity, accountability, and credibility." Sampled policies also frequently cited other committee documents that suggested that conflict of interest and other governance frameworks might exist but are not publicly available in English. For example, the legislation constituting technical advisory committees frequently specified that the committees, subject to government approval may create their own bylaws, regulate their own procedure, and the conduct of all business to be transacted by it, including establishing expert sub-committees as necessary [50,51,52,53]. It is likely that most of these committees have terms of reference and in the event that these or other documents do not already address conflicts of interest, provisions could be added.
Defining conflict of interest
Very few policies explicitly defined conflict of interest (n = 6/45); others merely referenced conflict of interest disclosure requirements, leaving the definition assumed and open to interpretation. Formal definitions generally encompassed 2 main types of secondary interests that posed a conflict of interest for committee members: 1) the presence of employment, business, and other financial interests in entities with a commercial interest in the decision-making process; and 2) the presence of employment, business, and other financial interests of close relations. Key informants stressed the need to develop shared understandings of what constitutes a conflict of interest within a particular decision-making process and for a particular role, noting that existing policy documents were too generic to provide practical guidance.
Formal definitions identified in policy documents generally only implicitly defined the primary interest or obligation that should be given ethical priority. When identified, the primary obligation was not defined in relation to the specific committee, but included "official duties," "functions," or "objectivity and independence" in relation to decision-making. The exception were committees engaged in public procurement, which specified the obligations and values that should be given priority in all decision-making such as "economy, efficiency, transparency, fairness and equal treatment of tenders or proposals" [25].
Conflict of interest
Overall, we found evidence that committees across pharmaceutical processes consistently required committee members to declare relevant secondary interests (Table 3). Table 4 outlines illustrative types of interests covered by the disclosure requirements. By clearly identifying the secondary interests that required disclosure, committees were implicitly defining what constituted a conflict of interest, even when the policy did not provide a formal definition. Bhutan made their conflict of interest declaration forms publicly available through a website. The forms outlined the types of information committee members were required to disclose. However, across the sample, policies and informants less frequently specified when and how often declarations should occur. One exception was the provisions contained in the Sri Lankan National Medicines Regulatory Act (No. 5 of 2015) requiring that the Minister ensure prior to appointment and periodically, that prospective members do not have "financial or other conflict of interest in the affairs of the Authority" [30]. The Act specifies that members must disclose the nature of any direct or indirect interest relevant to committee business and that these disclosures be recorded in the committee minutes [30].
Key informants described a few instances where processes for verifying the accuracy and completeness of conflict of interest disclosure existed. In these cases, members of the secretariat conducted internet searches to verify the individual's disclosures to the greatest extent possible. In the procurement context, another strategy was to maintain a database of the relationships and business interests of the civil servants and their family members [26]. We found no written information about whether, how, or by whom declarations of interest were evaluated to determine whether a conflict of interest existed or its severity or impact.
Prevention and management
To prevent conflicts of interest and mitigate corruption risks, some policies explicitly prohibited certain types of relationships deemed too high-risk. For example, the Bangladesh Public Procurement Rules (2008) prohibit the offer of gifts, hospitality, honours, offers of foreign travel or reward, and encouragement to engage in trade, employment, or other transactions to those involved in the procurement process [25]. The Sri Lankan National Medicines Regulation Authority Act also requires that the Minister ensures that prospective members do not have "financial or other conflict of interest in the affairs of the Authority" prior to appointment and periodically; individuals are disqualified for committee membership if they have been employed by the pharmaceutical industry in the 3 years prior to their committee appointment [30].
Key informants also described standard operating procedures, policy provisions, and practices that were designed to prevent conflicts of interest from occurring in the first instance or altering the situation to eliminate or mitigate the impact of a conflict of interest. These documents were not publicly available in English. Strategies for removing or minimizing the impact of secondary interests deemed at high risk of compromising an individual's primary obligation included reorganizing roles and responsibilities, or requiring shared decision making and additional checks and balances.
When discussing experiences with conflicts of interest, key informants largely described conflicts of interest arising from part-time employment in the private health sector, such as pharmacies, clinics, or laboratories, and family and friends' employment in or ownership of private health-related entities. They less frequently raised the issue of committee members' relationships with the pharmaceutical industry, with many remarking on the small pharmaceutical industry presence in their countries. Consequently, most reported that their institution's conflict of interest policy primarily focused on prohibiting public sector employees from 'moonlighting' in the private sector or requiring recusal from pharmaceutical processes that affected the interests of close relations to avoid the risk of favouritism or nepotism. They explained that in the presence of such conflicts of interest, "there are favours which [civil servants] can do," because "they know well how the system here works," thus creating a risk of preferential treatment or at the extreme, fraud.
We found little information in sampled policies regarding management of conflicts of interest. Table 5 outlines the specific strategies identified including recusal from deliberations, meetings, or procurement proceedings as the key management strategy. We did not identify any details regarding who should evaluate whether a conflict of interest existed, the severity of the conflict, and whether and how it should be managed. Key informants identified a need for clear guidance around how to manage conflicts of interest consistently, proportionately, and transparently.
Transparency and oversight
We did not find any instances of public transparency around conflict of interest disclosures of committee members: that is, we did not find that conflict of interest disclosures were published or otherwise made available for public scrutiny, in full or summary form. For example, none of the published Essential Medicines Lists, while listing the committee membership, included the members' conflict of interest disclosures.
A few of the sampled countries had anti-corruption commissions which provided guidance or oversight of conflict of interest policy implementation. In cases where the anti-corruption committee performed regular audits, key informants described high compliance with maintaining written declaration of interests (but not public disclosure). In other cases, key informants perceived that the anti-corruption commission did not have the political independence or human resources to carry out this function effectively.
Creating conditions to effectively address conflicts of interest
Key informants emphasized the importance of regulatory autonomy, independence, and strength to create the conditions in which conflicts of interest can be identified and decisively managed. Ultimately, they believed regulatory autonomy from the government, which might be the main pharmaceutical importer or responsible for facilities, and the private sector (e.g., through rejection of user fees as a funding mechanism) would build trustworthiness and make the regulator effective in fulfilling its mission. One key informant expressed,
I think if more needs to be done, it needs to be the watchdogs that need to be stringent…there has to be a point where an honest institution, which is not really a paper tiger can really look into what nefarious stuff is going on. But yes, that's a difficult task.
Key informants characterized regulatory autonomy and independence both financially and functionally. The presence of an independent oversight body that was adequately resourced seemed to be a motivator and facilitator for public sector pharmaceutical committees to develop and implement conflict of interest provisions. For example, key informants and the literature identified Bhutan's Anti-Corruption Commission as a model in the WHO SEAR. Transparency International conducted an independent assessment of Bhutan's Anti-Corruption Commission and found that despite challenges related to limited human and other resources, the Commission had a clear mandate and vision, well-established capacities, and had made strong contributions to investigation, research, outreach, education, and prevention, including addressing conflicts of interest [54].
In-country experts on conflicts of interest emphasised the need for greater transparency around disclosure and management of conflicts of interest. They emphasised that first, disclosures are necessary and should be made in the context of a shared, public understanding of what constitutes a conflict of interest. Second, policy around how conflicts will be managed should be publicly available and should specify which conflicts of interest will preclude participation. Third, all decisions taken should be publicly reported so that the public can compare these actions to the intended policy, assess compliance, and hold committees accountable. Finally, a redressal mechanism should be put in place to handle policy violations.
Key informants pointed to the important roles of civil society actors in prompting conflict of interest policy developments by calling for greater transparency and holding policymakers accountable. One informant explained that in response to civil society advocacy, regulatory agencies had divested from industry sponsorship or withdrawn from industry-funded programs or events: "This was the behavioural change that has happened from past couple of years, because now that we have very strong civil society voice, they just can't have these kinds of notorious partnerships as well." A supportive legislative framework also provided civil society with mechanisms to bring transparency to policy processes. Key informants identified Freedom of Information laws, anti-corruption legislation, and system-wide regulation as effective mechanisms for creating awareness of conflicts of interest and preventing or minimising particular conflicts of interest for civil servants related to gift-giving and employment or other financial relationships with the private sector.
Thailand's Health Intervention and Technology Assessment Program (HITAP) program provides a model for a principled, consistent, and transparent approach to conflict of interest management, with emphasis on conflict avoidance [46]. In 2012, Thailand's HITAP developed seven principles of good governance: transparency, inclusiveness, accountability, quality, timeliness, consistency, and contestability to guide its work [46]. Consistent with these principles, HITAP has a strict conflict of interest policy for researchers and for the Programme as a whole, laid out in a personal and institutional code of conduct. Both individual researchers and the Programme are prohibited from receiving benefits such as research grants, sponsorship to attend conferences and training courses, or other direct and indirect benefits from private, for-profit companies [46]. Staff must annually complete a disclosure of all interests, and depending on the nature of conflicts of interest disclosed, individuals may be precluded from undertaking particular types of work [46]. Transparency and accountability are emphasised as "key" to maintaining HITAP's independence, public trust, and the perceived credibility of work products:
Anticipating and learning how to handle commercial attempts to acquire improper influence, many of which are far subtler than banknotes proffered in brown paper envelopes, will need to form a part of everyone's training. It will not be enough (indeed, it is already not enough) to be scrupulously honest. HITAP has to be seen to be scrupulously honest. Transparency and accountability will be the keys to maintaining HITAP's future independence [46] (p. 196).
As a consequence of HITAP's principles, the potential of HITAP's work to support decision-making authority could grow, necessitating even greater emphasis on independence, transparency, and avoidance of conflicts of interest.
link